Helping Patients and Providers Speak the Same Language.
Evidence-based care solutions specifically designed to benefit both provider and patient. That's the principle behind every Vidatak product.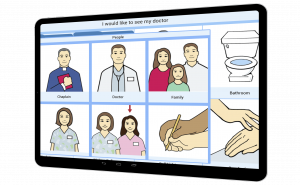 VidaTalkTM
A comprehensive, all-in-one, multilingual patient communication app, VidaTalk helps patients communicate easier via touchscreen menu options on their phone or tablet.
Choose from 100+ phrases, words or icons.
Typing and finger drawing for customizable communication
Available in 40 different languages
Integrated with Interpreter Services
Developed, tested, and validated with U.S. government support under NIH Federal Grant NR014087
Download App For Free


The Spiritual Care Communication AppTM
Non-vocal patients have the same spiritual, emotional and moral support needs as verbal patients. The Spiritual Communications app makes the proven success of our Spiritual Care Communication Board digitally accessible for patients and providers.
Developed by an experienced hospital chaplain. Available in English and Spanish.
In a clinical study published in the Annals of the American Thoracic Society, patients who used the Spiritual Care Communication Board reported decreased stress and anxiety.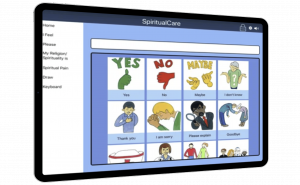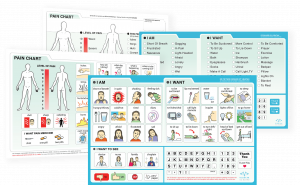 EZ BoardTM
The standard-bearer for serving the communication needs of critically ill, non-verbal patients.
Available in 20 different languages
Picture Board available in English & Spanish!
Two-sided, disposable dry-erase board
EZ Board Instruction Manual
EloquenceTM
This innovative smart-pillow speaker is the first of its kind in patient care. By replacing the standard one-button call system, Eloquence helps patients select their specific needs in their preferred language using a bedside touchscreen. A smart routing system then pairs requests with a staff member of the required skill level.
Increases specificity and transparency of patient needs
Improves efficiency of provider workflow
Expands communication across care team
First-time nurse call access for patients with limited English proficiency
Developed, tested, and validated with U.S. government support under NIH Federal Grant MD006149.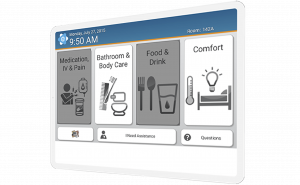 Evidence-Based Practice
The following simple processes will help enact the change you want to see and ensure outcomes improvement is realized.
Provide readily available resources and interventions at the bedside to support patient-provider communication to patients with communication deficits.
Include communication assessment, provision of effective communication resources and interventions, establishment of communication goals, and an evaluation of the effectiveness of resources and interventions provided within bedside charting.
Include performance expectations for care providers and clinical practice to achieve effective patient communication when patients present with communication deficits within institutional guidelines.
Raise awareness of communication-vulnerabilities and the know-how to effectively use communication resources through staff training and education curricula.
Implement processes that trigger doctors and nurses to prompt referrals to communication specialists and language services whenever patient communication is not successfully addressed with the resources and interventions that are readily available at the bedside.